"Maman died today." I have often wondered why Camus would open such a striking book as The Stranger with those three simple words. It was hard for me to understand what he meant to convey, what he meant to describe when he chose those words, how much he was opening the stage for his story. His wisdom was lost because I did not grasp the depth of his story. I am so sad to say I now understand that the story was not about one man's journey in life, and the consequences of his mistakes, but the numbness of the soul which a man suffers after the loss of his mother. I regret more than anything to say that I now share Meursault's sadness.
---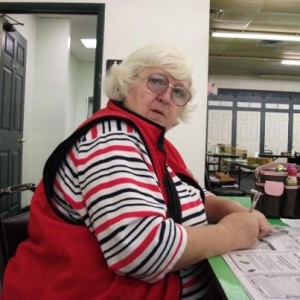 I have seldom heard a simple description of my mother. I suspect none exists.
Most great things come from simple beginnings. This is no different, good parents making an honest living. Karen grew up as the daughter of a boarding house matron. Her parents had other jobs as she grew, all as noble as this one, but this one stuck with her. She grew up learning how to talk to new people, and how to take care of them. Perhaps this is why she had such ease making friends. She had a way of making people comfortable, and she heard what they meant as much as what they said. A conversation with Karen was like talking to an old friend for the first time. I do not know of anyone she met who didn't love her. She was, however much more than just her friendship to others.
Karen had genuine concern for anyone she knew. She had a compassion not just for her many friends, but for all people. Those who knew her often described her by the size of her heart, or the depth of her love. Few people realized just how true this was, especially with regard to children. Karen ran Little Sprouts Day Care for over 30 years. She did this because she had an unending desire to care for others. She worked tirelessly to care for the children because it was truly tireless work for her. This was not a labor of love but the purest of pursuits, and it sustained her. Compassion alone, however, was only part of what defined her.
Karen valued and loved her family. Family was precious to Karen, and there was no doubt about her love for her husband, her children, or her grandchildren. This family, however, extended far beyond her house. A heartfelt welcome was extended to cousins, in-laws, nephews and nieces. Often even neighbors and friends shared love that was almost equal to her immediate family. Although there was more than enough love for Karen to share with everyone she knew, love alone did not describe her.
Karen had an inner strength, a resilience of self, that was as memorable as anything about her. Like her mother, her shoulders were broad enough to carry far more weight than a person should ever see. We all have to handle hardness, and Karen was handed far more than her fair share. She not only endured, but did so with a sense of spirit and humor that amazed and inspired others around her. She found her peace and found happiness, and then she shared what she found with everyone. Karen reminded those who knew her that you are not defined by whether you are knocked down, but how and when you get back up. Her resilience was a testament to her inner strength, a statement to her will. This, however, is still only a piece of what made her so memorable.
Karen didn't perform great acts, and she was never on a billboard. There were no Breaking-News events that happened, no amazing feats that awed the public. She only had small actions, simple gestures, little affects that made uncounted lives better. She lit a thousand small lights through her deeds that made her shine more brightly than anything around her. Karen taught us that what we really need, what we remember more, what helps us the most is a simple act of genuine love and compassion. When we fall, the most memorable person is the one who simply holds out their hand. when are sad, the best friend is the one who just asks why. When we are about to give up, the most helpful person pats us on the back and asks if they can help us keep trying. The greatest of people does not perform a few bold acts, but a multitude of small ones. We are greatest, we are most like her, when we remember that the simplest things really do matter the most. We are our best when are inspired to perform our own small acts, and most memorable when we inspire others to do the same.
Karen showed all of us that she was more than the events of her life. She was more than the sum of her experiences, the quantity of her friends, or the measure of her deeds. There are no words which describe what she was to the people close to her. Anyone who met Karen could describe a quality, an essence, about her that was unique. She was the embodiment of the paradox that there is a greatness in simplicity. She taught all who knew her that we are not just the sum of our deeds, but a measure of the hope that we give others. She taught us that what we are as a person is defined most by what we are to each other. She showed us that the true definition of everything that she was could be found in small actions, in the collection of little things that made her so great, in the ability to build happiness from what we are given in life and to share it with everyone.
As strong as she may have been, even the most solid of rocks must whither over time. Everyone must eventually move on. Karen became ill in October, and passed away in the afternoon on November 3 , 2012. She went quietly with members of her family, immediate and extended, at her side. It was too soon, but it always would have been. One of her cousins said that God needed an Angel. The one he found was beautiful in every way.
Matthew Ward quotes Albert Camus as saying in his notebooks that "the curious feeling the son has for his mother constitutes all his sensibility." I cannot agree more. There is no description for the feeling of numbness that you have after the loss of a person such as this, nor the emptiness you feel the first moment without them. There is no way to describe the change you see in the world when they pass. I will miss her the rest of my life, and will think of her daily. I can only hope to live, and to love, as she did. I can only wish to earn so many good friends.
Maman died today. I know that I will always do my best to live by her example, as will her family and friends. Her example will carry on through simple gestures, small things, and the continuing love and compassion that she nurtured so well. The impression made by so great a sole cannot help but last for generations, and will carry on through time as it's precious example is passed on.